Welcome back to another installment of Real Weddings Magazine's Partner Profiles!
This week we highlight Elaine Bereza, the mastermind behind Kits N Canes by Elaine. If you've been wanting to learn more about Kits N Canes by Elaine, now's your chance! Take it away, Elaine…
Kits N Canes by Elaine
Tell us a little about your company? My company was started to allow people with limited mobility to 'step out in style' with their canes. We then learned of other useful items that can be enhanced by our 'blinging' capabilities, including our new 'bride and groom' blinged out selfie sticks.
When did you establish your business? I started the business in 2014, after hip replacement surgery. A friend made and sent me a 'blinged out' cane, and we decided that this would be an excellent product in today's market. Our customers came to us with additional ideas, including our 'toob' line of bling covers for stethescopes, and our new line of 'blingsticks.'
What sets you apart from your competition? There are lots of decorated canes out there. Ours are different in the method of construction and the difference in 'bling' that our little crystals bring to the product. Other canes have 'designs,' ours have a definite 'sparkle' about them.
Where do you find inspiration? As noted above, ideas for new products come from our customers, who are usually thrilled when they receive their first product, usually one of our canes.
What trend do you see coming for weddings this year? Many couples want to be more participatory in the planning and development of that special record of their big day. Using our bride and groom selfie sticks will lead to unique and intimate photo opportunities. For couples using a professional photographer, the selfie sticks can become a fun addition to the overall wedding record.
Are you on social media? Yes, you can follow me on Facebook here!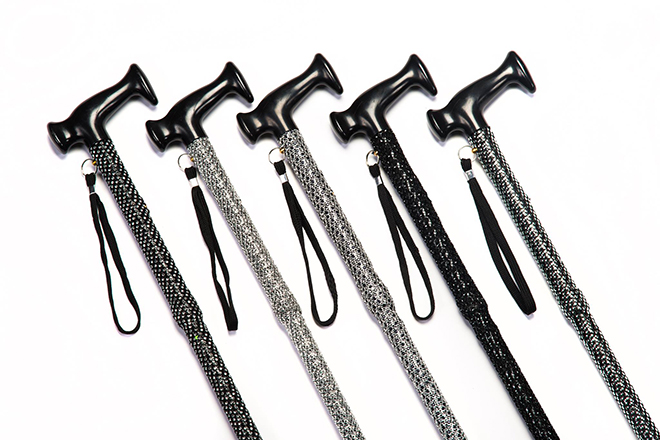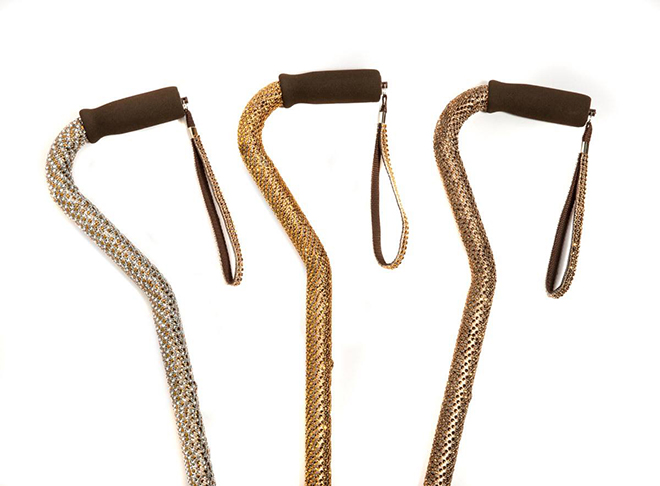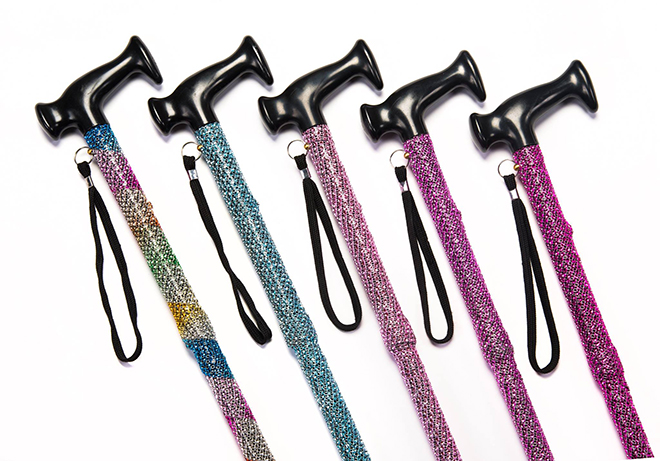 Can you share a funny/embarrassing/touching story about one of your clients? A customer purchased one of our canes for her grandma to use at her wedding. When she presented the cane to her grandma at the rehearsal, grandma was delighted, and everyone commented on her special cane. The customer was thankful for our helping to make the event special for her mother (grandma of the bride).
What's your favorite comment/compliment that one of your clients has given you?  "OMG she loved it!" (with a picture to prove it)
What's your favorite local restaurant? Katelli Deli
What's your favorite local charity? Catholic Charities of Long Beach
What is your favorite fun thing to do locally? Take my dogs out to run.
Do you have secret vice or indulgence? What is it?  If I told you, it wouldn't be secret anymore.
If you weren't in the business that you are in now, what other business/profession would you have liked to have done? Before this, I enjoyed a thirty-five year career in the airline industry.
What advice would you can give to couples getting married today? After this day, it's not about me, it's about us.
Anything else you'd like to share with Real Weddings Magazine's readers? Everybody talks about the "Mother of the Bride." Recognize Grandma's contribution to your family and allow everyone to talk about the "Grandma of the Bride" as well.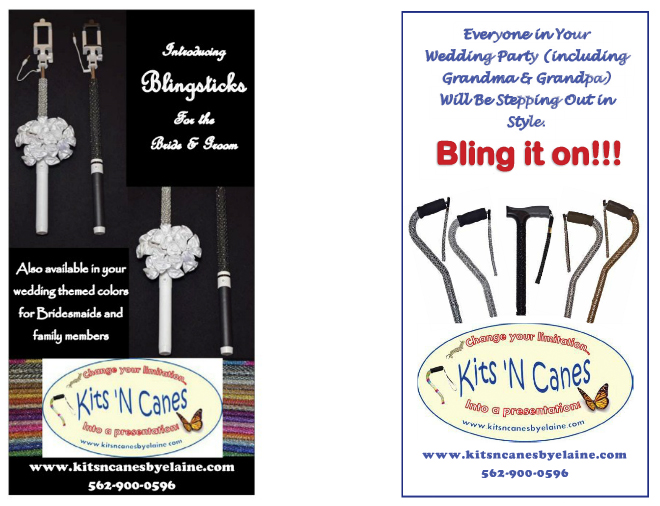 For more information about Kits N Canes by Elaine, log on to kitsncanesbyelaine.com.
And, be sure to check out Kits N Canes by Elaine on Facebook here.
Blog post by Real Weddings Magazine's Social Media Maven, Aimee Carroll.
Photos courtesy of Kits N Canes by Elaine.
Subscribe to the Real Weddings Magazine Blog! Click here:
[subscribe2]