Oh how we love our real bride models! We're so inspired by them, and we love featuring them in our magazine each issue in the shoots that we do.  In this part of our blog series, you'll get to meet each of our real bride (and real couple) models who got to play dress up with us for just one day!
First up, Katie McClain who was our real bride model in our "A Thousand Years" shoot. Here's just a little bit more about Katie!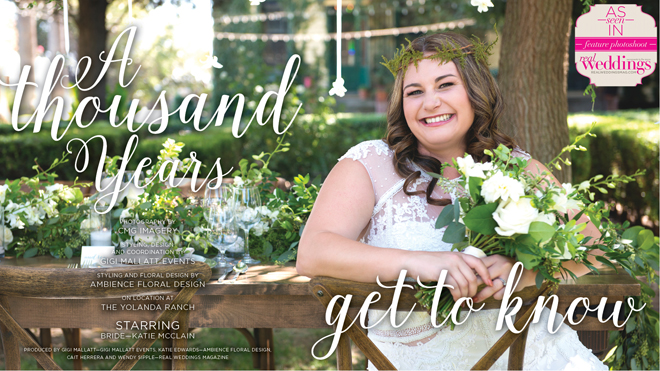 RW:  What made you want to model for this shoot?
KM: I was asked to model by Sparkle Bridal Couture (where I got my bridal gown) and felt honored to be picked by Real Weddings Magazine's Editor, Wendy, to be one of their real bride models. I'm thrilled to be able to show "average" women in the spotlight, too!
RW:  What was your favorite part of modeling?
KM: Taking pictures. I loved working it for the camera!
RW: What was your favorite part of this shoot?
KM: The venue was my favorite part. I loved the ethereal feeling and nature-inspired looks.
RW: What do you do in "Real Life?"
KM: I manage a local general surgeon's office. I am a certified medical assistant.
RW: Tell us about your own wedding.
KM: Hands down, it was the best day of my life! I married the love of my life in beautiful Lake Tahoe.
RW: If you could offer any advice to future brides, what would it be?
KM: Just let go and be the best "you" you can be!
—Interviewed by Kelley Saia
"A Thousand Years" styled shoot was produced by Gigi Mallatt—Gigi Mallatt Events, Katie Edwards—Ambience Floral Design, Cait Herrera and Wendy Sipple—Real Weddings Magazine.
THE DETAILS
Venue
The Yolanda Ranch  |  530-681-3311   |   theyolandaranch.com
Photographer
CMG Imagery  |  530-913-5367   |   cmgimagery.com
Design, Styling and Coordination
Gigi Mallatt Events  |  510-364-8939   |   gigimallattevents.com
Styling and Floral Design
Ambience Floral Design  |  916-786-6851   |   ambiencefloral.com
Cake
Something Sweet Bakery  |  209-745-9000  |   somethingsweetgalt.com
Hair and Makeup
I Make Beautiful  |  916-532-9800   |   imakebeautiful.com
Bridesmaid Gown
Dreamnette Bridal  |  916-780-4747   |   dreamnette.com
Bridal Gowns
Sparkle Bridal Couture  |  916-538-6615   |   sparklebridalcouture.com
Hair Accessories
Polly Singer Couture Hats and Veils  |  859-533-1426   |   hatsandveils.net
Hair Accessories
Ruby & Cordelia's Millinery and Fancy Goods  |  rubyandcordelias.etsy.com
Jewelry and Hair Accessories
Hair Comes the Bride  |  800-485-4444   |   haircomesthebride.com
Jewelry
Macy's   |   macys.com
Arden Fair Mall  |   916-925-2845
Country Club Plaza   |   916-485-3885
Downtown Plaza   |   916-444-3333
Sunrise Mall   |   916-962-3333
Westfield Galleria at Roseville  |  916-771-3333
Paperie
Throne Invitations & Stationery Design  |  916-812-1422   |   throneinvitations.com
Linens, Tables, Chairs, Plates, Flatware and Glassware Rentals
Celebrations! Party Rentals & Tents  |  916-773-2133   |  775-773-8900  |  celebrationspartyrentals.com
Chargers and Settee Rental
The Antique Owl  |  916-502-5951  |  theantiqueowl.com
Custom Décor Signage
Swoonable  |  swoonable.net
Videographer
JB Wedding Photography  |  916-220-0159  |  jbweddingphoto.com
Special thanks to our real bride model, Katie McClain, and to all of the professionals who contributed to this feature!
Click here to see other posts in the "A Thousand Years" blog series!
Blog post by Real Weddings Magazine's Editor/Publisher Wendy Sipple.
Photos by CMG Imagery / copyright Real Weddings Magazine.
Subscribe to the Real Weddings Magazine Blog! Click here:
[subscribe2]