And finally, the last in our styled shoot series on getting to know our real couple models:  Jenny & Melissa…from the current Winter/Spring 2016 issue…"Love You Till the End!"
We absolutely adored this couple — could they be any cuter? Now, let's get to know just a little bit more about them: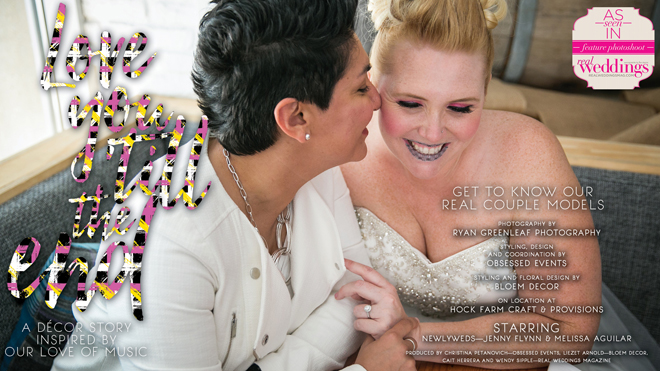 RW:  What made you want to model for this shoot?
JF & MA: We were really excited when Wendy contacted us. It seemed like an awesome experience and a once-in-a-lifetime opportunity.
RW: What was your favorite part of modeling?
JF: That's a tough question. The whole thing, really! Taking in the whole experience and getting gussied up! MA: Watching Jenny have fun.
RW: What was your favorite part of the shoot? Did you relate to the concept?
JF: I loved just getting to be with Melissa and have a trial run in a sense. Watching the space get converted into "our wedding" was really cool. I'm not a big fan of punk, so I couldn't relate to the concept, but I do love Melissa and want to love her until the end, so that part I could relate to! MA: My favorite part was watching the team set everything up. I love punk and rock, so I could definitely relate to the concept.
RW: How was it modeling with one another?
JF: It was phenomenal! I love this girl like crazy! In some ways it felt like it was just the two of us. We got lots of intimate shots where we were just "being us," taking no direction, but being our corny, loving selves. It was an incredible experience. We didn't take engagement photos, so I joke that this was our engagement session.
MA: I couldn't have done it without her. I hate to have my picture taken—I did this for Jenny—but it was fun, and I'm glad I did it. I loved seeing her so happy!
RW: Do you have any advice for our readers about planning a wedding? 
JF: Don't make every moment of every day about the wedding. Still enjoy each other and find other fun things to do in your free time. Also, do what you want, not what others want you to do. MA: Don't sweat the small details; it will all come together.
"Love You Till The End" styled shoot was produced by Christina Petanovich—Obsessed Events, Liezet Arnold—Bloem Decor, Cait Herrera and Wendy Sipple—Real Weddings Magazine.
Venue
Hock Farm Craft & Provisions | 916-440-8888 | paragarys.com/sacramento-restaurants/hock-farm
Photographer
Ryan Greenleaf Photography | 530-220-2112 | ryangreenleaf.com
Design, Styling and Coordination
Obsessed Events | 530-295-8154 | obsessedevents.com
Styling and Floral Design
Bloem Decor | 916-447-2001 | bloemdecor.com
Cake
Sweet Cakes by Rebecca | 916-370-7760 | sweetcakes.biz
Hair and Makeup
I Make Beautiful | 916-532-9800 | imakebeautiful.com
Bridal Gowns
Sparkle Bridal Couture | 916-538-6615 | sparklebridalcouture.com
Jewelry and Select Attire for Melissa
Macy's | macys.com
Arden Fair Mall | 916-925-2845
Downtown Plaza | 916-444-3333
Sunrise Mall | 916-962-3333
Westfield Galleria at Roseville 916-771-3333
Select Attire for Melissa
Banana Republic | bananarepublic.com
Paperie and Décor Signage
Invitations by Kalyn Ruijters | 707-953-7201 | somethingnewinvites.etsy.com
Tables, Plates, Flatware, Glassware and Décor Rentals
Roots Reclaimed Vintage Rentals  |  530-802-0768 | rootsreclaimed.com
Custom Décor Pillows
Swoonable | swoonable.net
Videographer
JB Wedding Photography  |  916-220-0159 | jbweddingphoto.com
Special thanks to our real couple models, Jenny Flynn and Melissa Aguilar, and to all of the professionals who contributed to this feature!
Click here to see other posts in the "Love You Till The End" blog series!
Blog post by Real Weddings Magazine's Editor/Publisher Wendy Sipple.
Photos by Ryan Greenleaf Photography / copyright Real Weddings Magazine.
Subscribe to the Real Weddings Magazine Blog! Click here:
[subscribe2]