COVID-19 has certainly thrown wedding planning a major curve ball…but lucky for you, we have amazing wedding pros ready to help! For this blog series, we've asked our partners to share their expert knowledge, actionable tips, and words of wisdom on what engaged couples can do right now to help you plan your upcoming wedding. Be sure to tune back in for more advice!
Today's tip comes from Christina Malm, Events Manager at Catta Verdera Country Club:
Get Referrals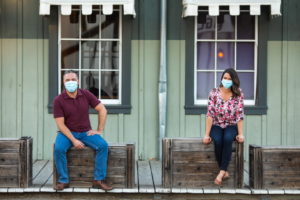 "If you're just getting started on wedding planning, see which venues offer virtual tours. Planning doesn't have to come to a complete stop. Reach out to your vendors to see how you can be planning from home. Ask your current vendors who they recommend for other vendors that you still need. This will help narrow down your search, as other trusted professionals recommend them."
Thanks, Christina! Check out Catta Verdera Country Club to find out more about their services!
Get more expert advice in our Real Weddings Magazine Planning in the Age of COVID-19 blog post series!
Top Photo by Artistic Photography by Tami. From Falina & Micheal's Featured Real Wedding at Catta Verdera. See more here!
Bottom Photo of Christina and (new!) husband, Landon, by Green Vintage Photography.