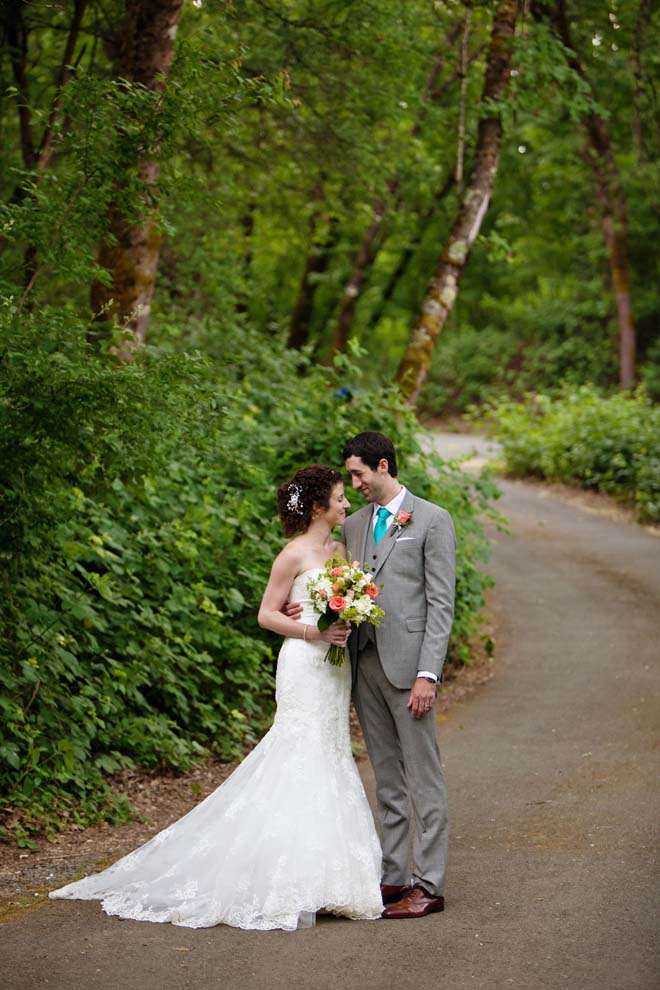 The Couple:  Rachel & Christian
Wedding Date:  May 26
Photography by Lyndsay Undseth Photography
Tell us a little about you and your beloved:  I was born in San Francisco, where we eventually met, but Christian traveled far and wide to get there. He started in Mexico City, circled through New York state, and stopped in San Francisco in 2008 on an adventure.
We both went to the SF Giants baseball game on Labor Day 2009 and, after the game, stopped for a beer at the bar across the street from the ballpark.  Christian spotted me from across the room and marched right up to me and tapped me on the shoulder.  Within a few minutes he had stolen me away for a private chat — there were a lot of smiles, he asked for my phone number and a date.
We went on our first date that same week and were smitten from the start. After a trip to Hawaii and a visit to the East Coast to meet Christian's family within those first few months together, we started looking at engagement rings and Christian proposed soon after.
Now we spend our days enjoying San Francisco and the many trips we take outside of it — hiking, biking, camping, running, scouting out amazing food and wine, eating oysters, spending time at fun bars with friends, trying to expand our quick and easy recipe list, and loving on each other and our wonderful families.
What was the most amazing part of your day?  Christian says that for him it was the moment when he was standing up at the front next to his brother as best man, not sure how he was going to feel or if he was going to be nervous — then he saw me coming toward him and everything else melted away and all he could see and think of was me.
For me, there are two moments that stand out. While the ceremony passed in a blur, I can still feel the emotions of that day as we walked down the grassy aisle as husband and wife and joined our parents, siblings and wedding party in the driveway after the ceremony.  I felt the absolute joy just wash over me as I found myself married to the love of my life and surrounded by our closest family and friends in the world.  I'd already done all of my crying during the ceremony and now couldn't stop smiling as we hugged everyone around us. It was so incredible to share that feeling with everyone.
My next favorite moment was during the reception, after dinner and our first dance when it started raining.  The rain was really coming down at this point.  We were huddled under the trees in the front yard with no back-up plan in the event of bad weather, and I thought, for a moment, that all of our planning, all of our hard work, all of the excitement leading up to this day would be for naught, because everyone would be too wet and cold and would go home.
Instead, what happened was this incredible feat of solidarity where everyone collectively decided and told us, "You're married, we love you, it's raining, and we're all just going to get wet!"  We were outside dancing in the rain with our loved ones until the late hours of the night and it was so much fun!  The music didn't stop, someone carted the umbrellas covering the food onto the dance floor, and we had a beautiful, wet, fun-filled dance party under the trees.
What else would you like to share about your big day?  We had originally thought, with each of our families on opposite sides of the country, that we'd do a destination wedding somewhere in between and then have receptions on each side.  We instead settled on a California wedding to make the planning easier on ourselves.  After a lot of venue research up and down the state, my aunt's neighbor offered us his property for an outdoor wedding and it was perfect! We made all of the decisions on layout and the look of the event, where to hold the ceremony, the flow to the day, where to take photos and where to put the dance floor.  My aunt also opened up her nearby home to us for all kinds of pre-wedding prep.  It was a lot of work but so worth it because we were able to make the day fit our personalities and our vision for our wedding.  We wanted the beer flowing and the lawn games out, and that's exactly what we had.
With the rain day-of, I desperately wanted to keep things upbeat and rockin', so our family friend who was going to man the playlist for us decided to stick with the sound equipment the entire night and threw entirely new songs, removed songs, mixed songs — really just made it a dance party.  He was under the porch awning in the rain, scrambling to cover the sound equipment with plastic and kept everyone happy and on the dance floor.  It would not have been the party that it was without him! My mom and aunt at the same time magically emerged with towels and blankets for everyone, which was amazing.
Ceremony & Reception Site:  The front yard of a private residence in Meadow Vista.
Photographer: Lyndsay Undseth Photography
Bridal Attire: My dress was from BB Bridal in San Jose, jewelry was from Nordstrom.
Bridesmaids' Attire:  All of the ladies' dresses were found on Dessy's website and purchased from various stores across the U.S. I chose the color and they selected their dress and fabric themselves. They chose their own jewelry and shoes.
Hair & Make-up: Parlor Salon
Flowers:  Centerpieces, ceremony flowers, and cake accents we made (with help from the gals) the day before using Costco flowers ordered in bulk. The bouquets and boutonnieres were from Petals and Sweets.
Caterer:  Griselda's Catering
Cake:  We had lots of pies from Ikeda's and a small cake from Freeport Bakery.
DJ/Entertainment/Band:  My brother borrowed the sound equipment from a DJ friend of his and helped us set it all up. We created a Spotify playlist on my mom's iPad with help from Christian's siblings. A family friend on Christian's side manned the playlist with help from a couple other guests. My cousin also acted as a phenomenal MC.
Favors: DIY using kraft paper pillow boxes, Ghirardelli chocolates and an Etsy-purchased stamp with our names and wedding date.
Honeymoon Location: Puerto Rico and the U.S. Virgin Islands!
First Dance Song: "You Are the Best Thing" by Ray LaMontagne.
Any advice you'd give to our readers who are planning their weddings right now?  Spend most of your energy (and money!) planning what matters to you two and your families, not what you think matters to others, or what "should" be part of a wedding.  If it's not something that's important to either of you, it's probably not worth the extra effort.  There are no wedding rules!
Anything that you would have done differently if you were given the chance?  While not everything was picture-perfect (I mean, it RAINED on us…), it was perfect for us.  It was the most amazing, stunning, emotional, love-filled, perfect day of our lives and we wouldn't change a thing!
Photos courtesy of and copyright Lyndsay Undseth Photography.
Subscribe to the Real Weddings Magazine Blog! Click here: [subscribe2]