Umarah & Omar Zakaria Written by By Darren Elms
Photography by Profinish Design

THE COUPLE: Umarah & Omar's

Wedding Date:
July 13, 2008
For Umarah and Omar, the virtues of family and faith played significant roles in their recent nuptials. Though both raised in the U.S., Omar in Houston, and Umarah here in Sacramento, their parents came to this country from Pakistan. They first became acquainted while serving as board members for MSA National, the Muslim Student's Association. According to Umarah, the courtship was not what you'd normally expect of a traditional love story. "When we began talking about 'us,' it was really to evaluate whether we would be good as each other's spouses," she says. "We approached the whole matter very pragmatically."
That decision proved to be easy. Then it was time to take the proposal to their respective parents. "We come from a background where it is not just two people coming together, it is two families," Umarah notes. First Omar's family came to visit Sacramento, and then Umarah's entire family went to Houston. "While we were in Houston his parents proposed the idea of just having the engagement there since everyone was together," she says. "A day and a half later, we had a small engagement party at their house."
Umarah says she wasn't one of those brides who had her entire wedding planned out since she was a little girl. Instead, she chose to rely on the advice and help of her family, friends and some very skillful vendors.
"Pakistani weddings are a big family affair; all the family members come together, and we were both very fortunate to have so many come from so many different places," she says. "Our wedding festivities start way before the actual wedding, and it was just so much fun and rare for everyone to get together like that."
Though genuinely touched by all that the families provided for the occasion, the event was not without difficult moments. While in Sacramento preparing for the wedding, Umarah's 16-year-old cousin in Phoenix was hospitalized and in a coma as the result of a car accident. "It was incredibly scary and difficult," recalls Umarah. "Everyone really remembered him in prayers. He made very quick progress and is now doing very well.
The Islamic wedding ceremony was performed by Imam M.A. Azeez of SALAM Center, someone Umarah had worked with before. As both the bride and groom must meet for counseling before the wedding, Omar also became familiar with him. "Knowing and respecting the person who performed our wedding was definitely very nice," he says. The couple was also touched by a point Azeez reiterated at the ceremony. "He said we need to make commitments to each other and asked for our family and friends to also commit to supporting us in our union," Umarah fondly recalls.
The reception got underway with a joyous celebration of the newlyweds with their now officially joined assemblage of family and friends. And, as a symbol of the melding of their Pakistani roots with their American home, they offered guests side-by-side Pakistani desserts and a sponge cake with buttercream frosting. A delicious way to end a moving and memorable celebration.
Umarah & Omar's Wedding Resources
Tips
Umarah says, "Involve your friends and family in the wedding. Everyone has family members who have amazing design ideas, and would be honored to help in planning; and friends who have personalities that will liven up the entire event. For us, our wedding was really a chance to celebrate with them. My wedding would not have been as beautiful, fun and memorable without them. I'm so grateful for all my family and friends.
Changed
Umarah says, "Also at the wedding, I didn't touch or even look at the wedding food. I regret that."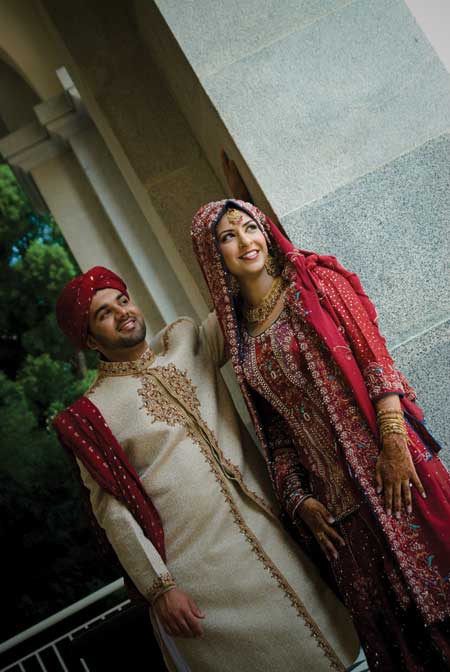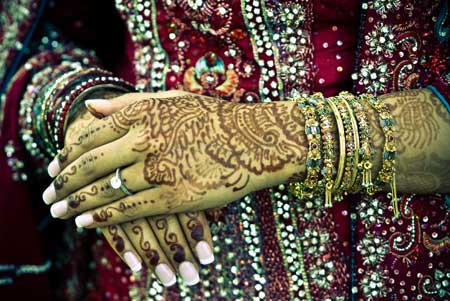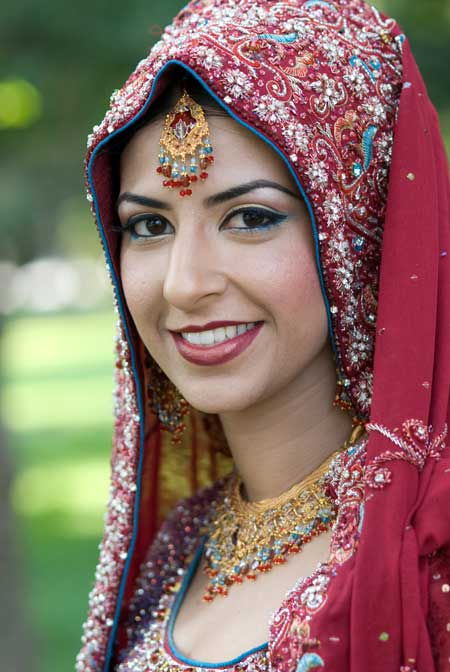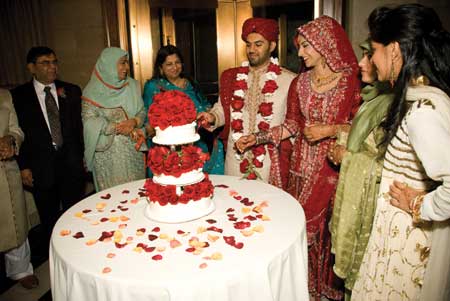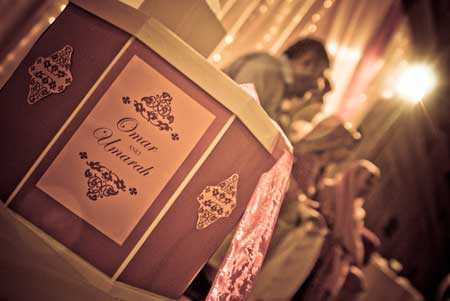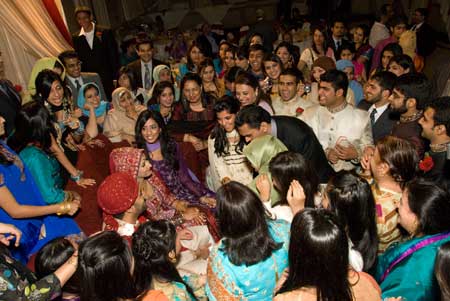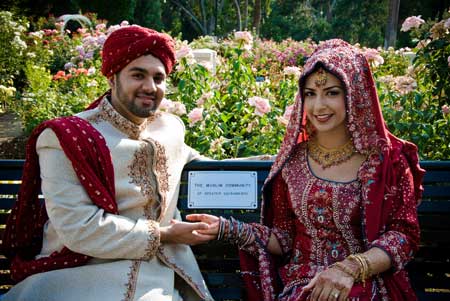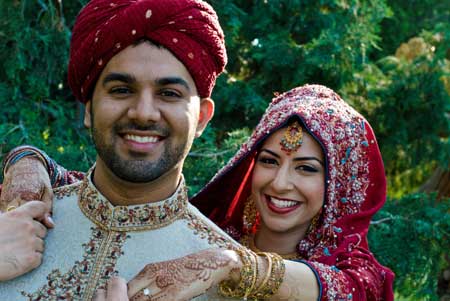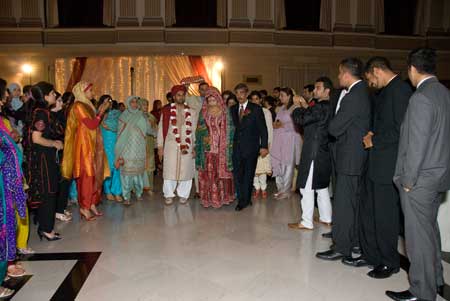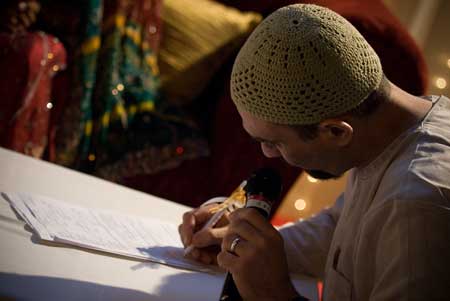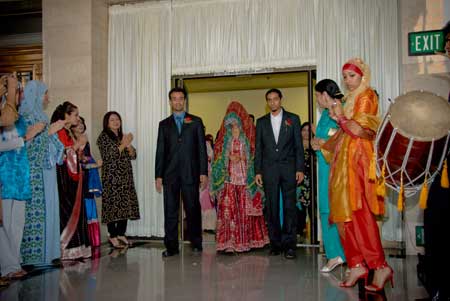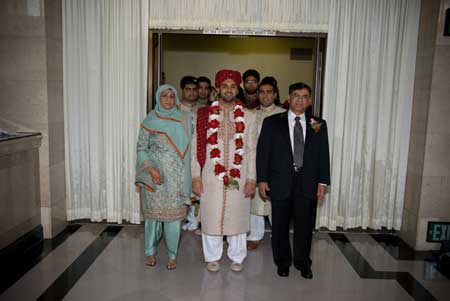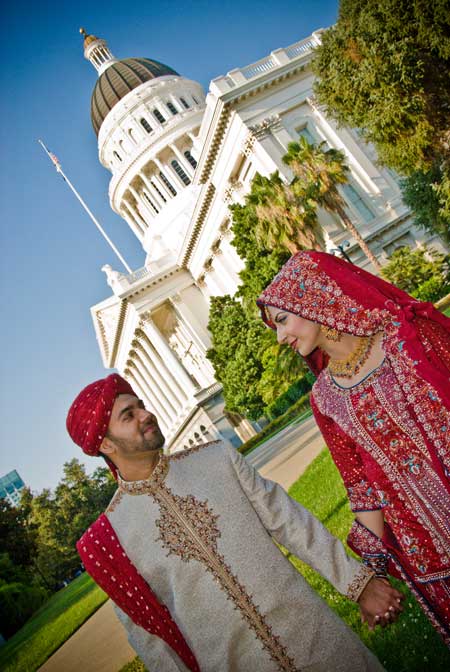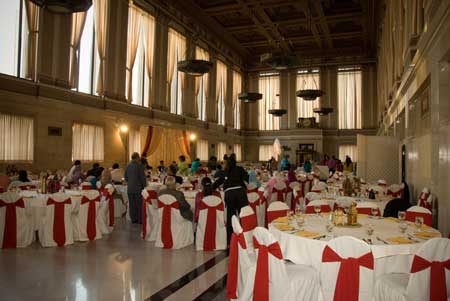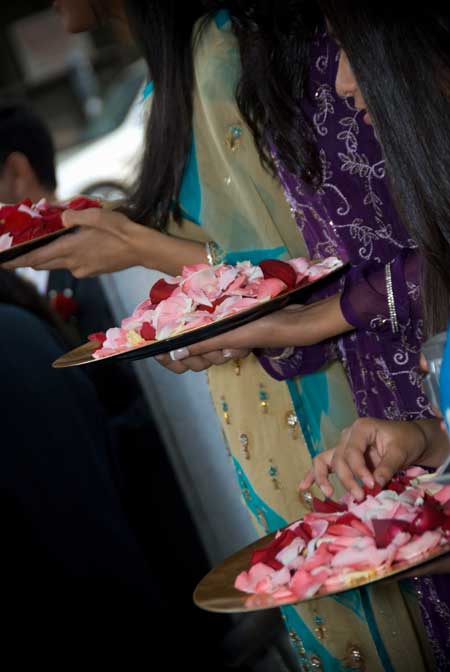 Ceremony Sacramento Grand Ballroom
Officiant Imam M.A. Azeez
Reception Sacramento Grand Ballroom
Videographer Chatha Video Productions
Wedding Planner Bride's Aunts
Invitations Kodwavi Printing, Pakistan
Wedding Gown Lebos, Pakistan
Hair and Makeup Rukhsana Qumar
Caterer Mehran Restaurant and Catering
Cake A&M Florist and Bridal
Music Entertainment Bride's cousin Basima